Southern Carcass Improvement Project Update (August 2011)
Survey Estimates Value of Two Sire Groups after Weaning
ASHLAND, KANSAS, August 3, 2011—A survey designed to estimate the value of the Southern Carcass Improvement Project (SCIP) cattle as 60-day weaned feeder calves was recently completed by feedyard managers, stocker producers, and auction market operators. A total of 95 experienced cattle market participants from a dozen states were asked to gauge the value of each of the two SCIP sire groups using pictures and a brief written description on the sires and dams represented by each group. This allowed a market value assessment at the post-weaning stage of production without actually selling any of the project cattle. The survey was conducted during the first half of 2011. Market prices reflected where feeder cattle were trading at that time. Each participant was asked to independently value the two sire groups, according to what they would be willing to pay given market conditions at the time the survey was completed. States represented in the survey include: Alabama, Arkansas, Georgia, Florida, Kansas, Kentucky, Missouri, Mississippi, New Mexico, North Carolina, Oklahoma, Tennessee, and Texas.
Results: 100% of survey participants valued the Angus x Southern group higher than the Southern x Southern cattle, with the average price differential exceeding $9 per cwt. at 700 lbs., as shown in the table below. This difference amounted to 7.8% and was highly statistically significant (P<0.01).
SCIP Feeder Value Survey Results
| | |
| --- | --- |
| | Average Price |
| Angus x Southern Steers | $128.09 |
| Southern x Southern Steers | $118.86 |
| Difference per cwt. at 700 lbs. | $9.23 |
| Percentage Difference | 7.8% |
| Difference per head | $64.62 |
One generation of high-growth/high carcass Angus bulls, like those produced at Gardiner Angus Ranch, can therefore add nearly $65 per head in marketable calf value to a cowherd with mixed southern breeding and little or no apparent Angus influence. "Our survey respondents come from different vantage points in the industry and are involved in trading literally millions of cattle each year. Their collective perspective represents a wealth of experience concerning how the market values these types of cattle," says Mark Gardiner of Gardiner Angus Ranch. "Value creation is what the SCIP project is all about, and the survey confirms that using even one generation of high-end Angus bulls will give producers a calf crop worth substantially more as compared to calves with mixed southern breeding."
Brian Bertelsen, Vice President of Field Operations for U.S. Premium Beef, explains that cattle feeders and other market participants have become increasingly sensitive to carcass potential, while continuing to emphasize health and feedyard performance in the feeder cattle they buy. "The marketplace continues to move toward a true value-based system. Carcass merit is gaining importance at the fed cattle level and working its way back through the supply chain all the way to the cow/calf producer," Bertelsen says. "That's why these results are not surprising. For producers wanting to add value to their calves, the road map on how to do so is becoming increasingly clear."
The Southern Carcass Improvement Project is collaboration with Gardiner Angus Ranch, Kansas State University and Virginia Tech, to determine the carcass improvement that can be made in one generation, using high carcass value Angus bulls on typical Southern-origin beef cows, representing typical bos indicus-influenced genetics most often found in Southern states. The SCIP addresses the beef industry's long-standing need for higher quality grades and better overall carcass traits in Southern U.S. packing plants.
Gardiner Angus Ranch is a family owned Angus ranching operation located near Ashland, Kansas. Gardiners use their experience in beef cattle breeding, with state-of-the-art technology and data management, to produce Angus cattle that make documented contributions to the beef industry. The Gardiner operation registers more than 2,000 head of Angus cattle each year through the American Angus Association and encompasses more than 40,000 acres in southwest Kansas. The ranch is a founding member of U.S. Premium Beef, LLC.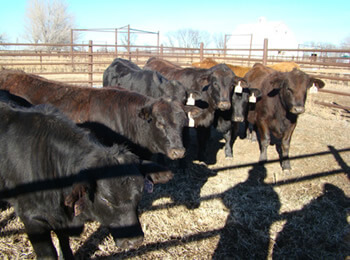 Angus x Southern Feeder Cattle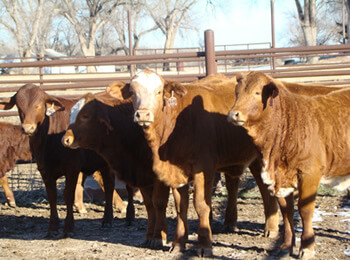 Southern x Southern Feeder Cattle