2017 | 2016 | 2015 | 2014 | 2013 | 2012 | 2011 | 2010 | 2009 | 2008 | 2007 | 2006 | 2005 | 2004 | 2003 | 2002 | 2001
Production Sale Averages for 1980-2007
2009 Sale Results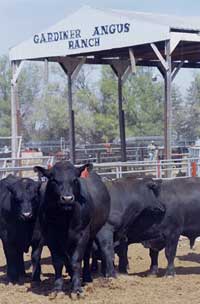 Once again our friends, customers and fellow beef producers have humbled us through their support of our program. We are truly grateful and gratified. Your commitment to better beef production through dynamic genetic improvements leaves us even more resolute in our determination to produce "quality pounds in the right package." We sincerely appreciate your business.
30th Annual Production Sale
All cattle selling are AM-Free.
Read the press release
Sale Spring ET Heifer Yearling Data


Latest Sale Updates & Embryo Sexes


AHIR Data on Cows Selling


Commercial Bred Heifers Group


View our spring sale thank you slideshow
---
5th Annual Bull Sale
Read the press release
Fall Sale young bull update


Fall Bull Sale supplement


View our fall bull sale thank you slideshow