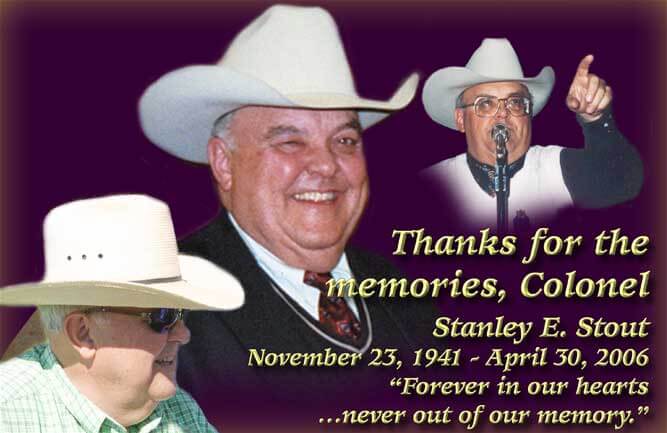 The Colonel
Garth Gardiner
Gardiner Angus Ranch, Inc.
Ashland, Kansas
Thursday, May 4, 2006, was a long day. It was the day an industry laid to rest one of its legends. It was a day that stoic ranchers and cattlemen from across the U.S. said goodbye with tears running down their cheeks to a legend in the industry. It was a day when the auction chant and voice of Stanley E. Stout blasted through the loud speakers one last time at the Flint Hills Rodeo Grounds in Strong City, Kansas. As the memorial service to an icon in livestock auctioneers closed with the sounds of Stanley selling at the 2006 National Western Stock Show those who had held back their tears to that point let the flood gates of emotion pour down their faces as not a dry eye was seen when the voice of "The Colonel" ended the service.
I began setting up the P.A. system for his memorial service at about 7:00 a.m. on the day of Stanley's funeral. As the rain poured down on my unprepared body I looked upward and smiled and said, "Stout, you sorry SOB…you're getting me again aren't you?" It was almost like I could see that familiar twinkle in his eye in one of the rain clouds above and hear his booming voice say, "You BETCHA!" All of us that knew Stanley would agree, he was the consummate practical joker, and to have over 1,000 people sitting on cold aluminum bleachers in the drizzling rain, mourning his passing would be the ultimate Stout prank. Each of us who were there would have given anything if when passing his lifeless body he would have popped up and said, "HA! Just kidding!" I'm betting I'm not the only one who thought that MIGHT be a possibility when hearing of his untimely death. "Hmm, just another Stout prank," I thought as did many others. Sadly, we were all wrong, and the man whose voice became so familiar with hundreds of successful purebred sales across this country was gone forever on April 30, 2006.
Stanley Stout made me better at what I do. I, not unlike many others, served as a clerk for our family's annual production sale for the past 18 or so years. This wasn't a job that I took lightly, or one that came without pressure. At the speed in which we like to run our sale, Stanley was at his best when he was going faster than slower. Any of those who ever sat beside him on the block knew the pressure (and pranks) that came with that seating assignment. The blind fore-arm shiver that would come from out of nowhere knocking the wind out of you; the constant verbal harassment that would follow a request to hear the buyer's number again, and the sly disappearing of your one and only ink pen was a favorite prank of his. Or the rapidity in which he would speed up when he knew you were behind. It was his goal to mess you up…and then make you the subject of laughter when he let the audience know that the reason the sale was being stopped was because of your ineptitude (or computer that locked up…which he usually failed to inform the audience of). When the sale was over, I knew that I had done well when Colonel would extend out his hand and say, "Great job!" Compliments didn't come easy…and they didn't come often. When they came however, they were sincere.
Stanley Stout made the auction more exciting. He made it more interesting. There was never a dull moment when he was behind the microphone. Whether it was announcing the ringmen for the sale or thanking the women behind the complimentary lunch, Stanley was ALWAYS colorful.
There wasn't a sale that Stanley called that he didn't earn every bit of his salary/commission. He deserved every cent that any of us ever paid him. He made us all money.
It was only fitting that the man who loved to joke would die the day before one of the most controversial days in western-attire history. May 1. Some say Stout would say that it was "code" to put away your felt cowboy hat on May 1st, and break out your straw lid. My belief was that he ACTUALLY loved to harass so much, that from May 1st to Memorial Day if he saw you with a straw hat on…his rule was that the felt hat was to remain on until Memorial Day, and if he saw you with a felt hat on between that time period, then he would change his rule and say that the May 1st-straw rule existed. Oh how I wish I could just call him up on his cell phone and ask him which way was correct.
If there is a lesson to be learned in any of this it is that we are all on "borrowed" time. None of us knows when our time will come, and we should all "live like we were dying" (to borrow a phrase from a famous country song). Today could be the day. Are you ready? I know that there are a lot of things I hope to accomplish before the day that my name is called…however I also know that this is not necessarily my decision to make. We can only cherish the time we have and the ones we love…and not hold anything back for we really don't know what the future holds.
I do know that the future will hold more sad days for us. There will be many "firsts" in the coming year. There will be that first fall sale in which Col. Stanley E. Stout won't be behind the microphone introducing the livestock press representatives. There will be that void of the familiar Christmas card that always hit our mailbox in late December. The purple neckerchief that all of us loved won't be there the next time the Kansas State Wildcats go bowling. That familiar Cadillac adorning the "Eat Beef" license plate on the front won't be barreling down the road for a visit again anytime soon. It's going to be a long year of firsts.
Stanley Stout spent his lifetime making people laugh. It seems so unfair that on a rainy day in the Flint Hills of Kansas, he made us all cry. There will never be another Stout, and for that we can all be somewhat thankful, but it doesn't make it easier. The emptiness and the pain that we all are feeling now can only be eased by the memories and laughter that this crazy little guy left us with. But that's all we have, and for those memories we should all be thankful; thankful that we were all touched in one way or another by the man who many of us just knew as "Stout."
Stout we will miss you like you will never know. Thank you for being "you" and for never changing who you were or what you were. Next spring will bring a whole new pain to endure when the sale season starts up again. You were one of a kind. You BETCHA!