Internships

GAR is seeking student interns from land grant universities. Applicants should be junior or senior undergraduate students with a background or major related to animal agriculture. Applications for the spring 2020 internship are due October 15, 2019. Applications for the fall 2020 internship are due March 15, 2020. Submission of all application materials via email is preferred.
GAR has been fortunate to employ many outstanding and inquisitive interns over the years.
---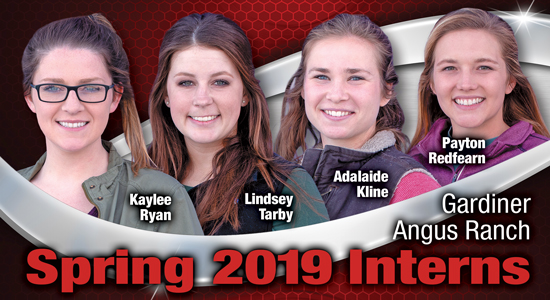 The goal of Gardiner Angus Ranch's internship program is to increase the knowledge and ability of undergraduate students in ranch management and marketing of purebred cattle, and to enhance their potential to become leaders in the livestock industry.
---
A Look Back with the Gardiner Angus Ranch 2017 Spring Interns
Listen to GAR interns Lindsey Grimes and Elaine Martin share thoughts on their internship experience in Spring 2013. Our thanks to Lindsey and Elaine for a job well done!